ADEPT

 
Achieving Diagnostic Excellence through Prevention and Teamwork
Achieving Diagnostic Excellence through Prevention and Teamwork (ADEPT):
Principal Investigators:
Andrew Auerbach, MD, MPH (University of California, San Francisco)
Jeffrey Schnipper, MD, MPH (Brigham and Women's Hospital)

Many factors contribute to diagnostic errors, but key among them are foundational issues in healthcare: complex and fragmented care systems, the limited time available to providers trying to ascertain a firm diagnosis, and the work systems and cultures that support or impede improvements in diagnostic performance. While approaches to identifying diagnostic errors exist, few studies have linked identification of underlying systemic and structural causes of errors to existing quality improvement programs. Even fewer have applied resilience theories or positive deviance approaches to characterize the features of cases where the diagnostic process is optimal and then use those findings to frame health system improvement.
The AHRQ-funded Achieving Diagnostic Excellence through Prevention and Teamwork (ADEPT) study builds directly on our AHRQ-funded Utility of Predictive Systems in Diagnostic Errors (UPSIDE) study, which is defining risk factors, underlying causes, and prevalence of diagnostic errors among patients admitted to hospitals participating in our 55-hospital research collaborative, the Hospital Medicine Reengineering Network (HOMERuN). UPSIDE has developed reference standard approaches to adjudication of diagnostic errors, defined factors associated with errors, and created collaborations with our sites and national organizations, providing a uniquely powerful opportunity to transform how diagnostic process evaluation programs can be used to improve patient safety.
ADEPT will build on UPSIDE to create a learning health system which integrates diagnostic error and process assessments into existing quality and safety programs, shares data, infrastructure, and expertise to catalyze improvement in diagnostic performance, and lays the groundwork for efforts which will last beyond the duration of the grant.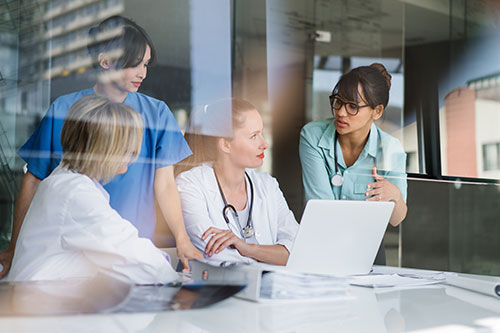 Participating Sites:
UCSF
Brigham and Women's Hospital
Northwestern Memorial Hospital
University of Minnesota
University of Colorado Anschutz Medical Campus
Washington University St Louis
University of Wisconsin-Madison
University of Chicago
Vanderbilt University Medical Center
ChristianaCare
Mount Sinai Hospital
University of Washington Northwest Campus
Zuckerberg San Francisco General Hospital
Maine Health
Regions Hospital
University of Massachusetts Medical School