UPSIDE

 
Utility of Predictive Systems in Diagnostic Errors
According to the National Academies of Medicine "Diagnostic errors cause harm to patients by preventing or delaying appropriate treatment, providing unnecessary or harmful treatment, or resulting in psychological or financial repercussions… improving the diagnostic process is not only possible, but also represents a moral, professional, and public health imperative." (Article)
The Utility of Predictive Systems in Diagnostic Errors (UPSIDE) study is an AHRQ-funded project that leverages HOMERuN participants and sites to accurately define the incidence of diagnostic errors among patients suffering serious inpatient events.
UPSIDE will define the incidence, causes, and risk factors for diagnostic errors in the inpatient setting at among more than 3000 patients admitted to 32 hospitals associated with HOMERuN. UPSIDE's work will provide foundational evidence for the development of interventions to reduce diagnostic errors, including predictive tools, targets for intervention, and a methodology for outcome assessment in future trials of interventions.

UPSIDE is a unique partnership between HOMERuN sites and Vizient®, a performance improvement organization that improves the delivery of high-value care by aligning cost, quality, and market performance for more than 50% of the nation's acute care providers, and 95% of the nation's academic medical centers. Data for UPSIDE will, in part, come from the Vizient Clinical Data Base (CDB), a robust and validated health care analytics platform for performance improvement. UPSIDE will also partner with Vizient's Patient Safety Organization to disseminate our results and extend our impact.
Publication
Dalal AK, Schnipper JL, Raffel K, Ranji S, Lee T, Auerbach A. Identifying and classifying diagnostic errors in acute care across hospitals: Early lessons from the Utility of Predictive Systems in Diagnostic Errors (UPSIDE) study. J Hosp Med. 2023 May 21.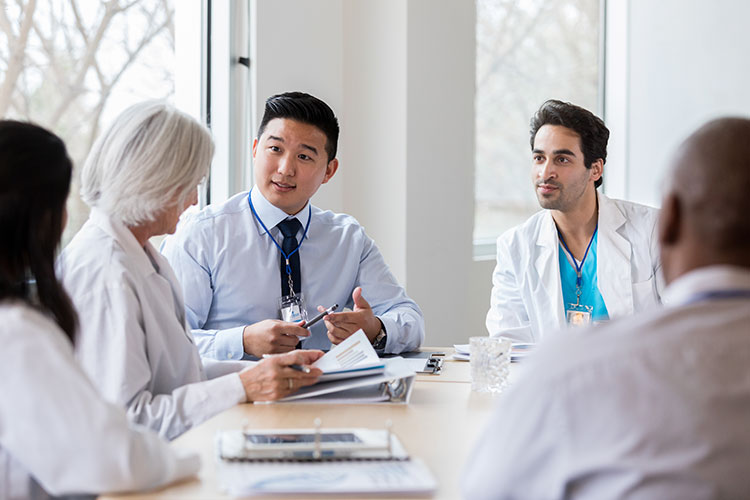 PARTICIPATING UPSIDE SITES
UCSF Parnassus
SF General Hospital
Northwestern University
Northwestern Central DuPage Hospital
University of Chicago
University of Michigan
University of Washington
University of Washington Northwest Campus
Harborview Medical Center
Vanderbilt University
Beth Israel Deaconess Medical Center
Brigham and Women's Hospital
Massachusetts General Hospital
University of Pennsylvania
Penn Presbyterian
ChristianaCare Hospitals
Mayo Clinic
University of Missouri-Columbia
Medical College of Wisconsin
Froedtert Hospital
Johns Hopkins Hospital
Johns Hopkins Bayview
The Miriam Hospital
Weill Cornell Medicine
Emory University
University of Colorado
University of Wisconsin-Madison
Oregon Health & Science University
Cedars-Sinai Medical Center
Yale School of Medicine
University of Kentucky